Lunations Black Ruthenium
Regular price

€39.500,00


Without taxes

€48.980 with VAT 24%

Regular price

Sale price

€39.500,00


Without taxes

€48.980 with VAT 24%
Limited to 10pcs.
Sarpaneva Lunations Black Ruthenium is fitted with ultra-precise in house calibre. It distils all 30 years of Stepan Sarpaneva's professional watchmaking expertise. Moonment® calibre plates and bridges are Black Ruthenium coated and the skeleton bridges have been beveled.
The lunation in the Sarpaneva Moonment® calibre lasts 29 days, 12 hours, 44 minutes and 2.3 seconds, which means it needs to be adjusted for a single day of error only once every 14,000 years.
They envision a movement that is unique and stands out. Combining artistry of design and craftsmanship with the technical precision of watchmaking. This dream required years of dedication, learning, and practice to hone the necessary skills, as well as to find own design language. But the end result of creating a caliber that is truly unique makes it all worth it.
Setting The Scene
Not only is Sarpaneva Lunations uniquely precise in its display, it is also uniquely precise in the way it is set: Pulling the crown at 4 o'clock out to the first position allows the wearer to set the phases of the moon display. An integrated phases of the moon scale, engraved on the back of the watch provides additional guidance on getting the display as close to the actual lunar cycle as possible. Sarpaneva Lunations can also be easily customised to reflect the lunar cycle in both northern and southern hemispheres. 
The Lunar Effect
The phases and the power of the Moon does influence Stepan`s mood and behavior.  His lunar rituals and traditions continue to celebrate in his mind. Two nights before the full Moon, one will know for sure – Stepan is up all night. Sometimes new design, an old idea or the buzzle floating in his mind creates watches we see today.
The Moon is an important natural element and impacts various aspects of nature. Moon`s gravitational pull affects the ocean tides, and its light influences the behavior of many animals, particularly nocturnal ones. The Moon is a symbol of natural balance and harmony. No wonder it is the favorite complication of Stepan Sarpaneva.
Delivery time 4-12 months
Remember to download our App to adjust the phases of the Moon
Sarpaneva " Moonbridge " Steel fits perfectly in the Lunations.
Movement

Black Ruthenium coated Sarpaneva in-house Moonment® calibre, 21,600 vph (3 Hz)
Mechanical manual-winding
20 jewels
60-hour power reserve
Dial

Black Ruthenium coated beveled skeleton bridges
Two-tone hands in Rhodium, Flame Blue, Red Gold or Pitch Black
Laser-machined and hand-finished optical fibre moon face relief, moon illumination powered by RC Tritec's Lumicast®glow in white, blue, orange or purple, day color white
Case

High-grade Outokumpu Supra 316L/4435 stainless steel case
42 mm in diameter, 9,8 mm in thickness
Front and back sapphire crystals with multi anti-reflective coating on the inside
Two-part crown at 4 o'clock with signature Sarpaneva moon face motif
Water-resistant to 5 ATM
Strap

Leather in various colours
Stainless steel pin buckle
Share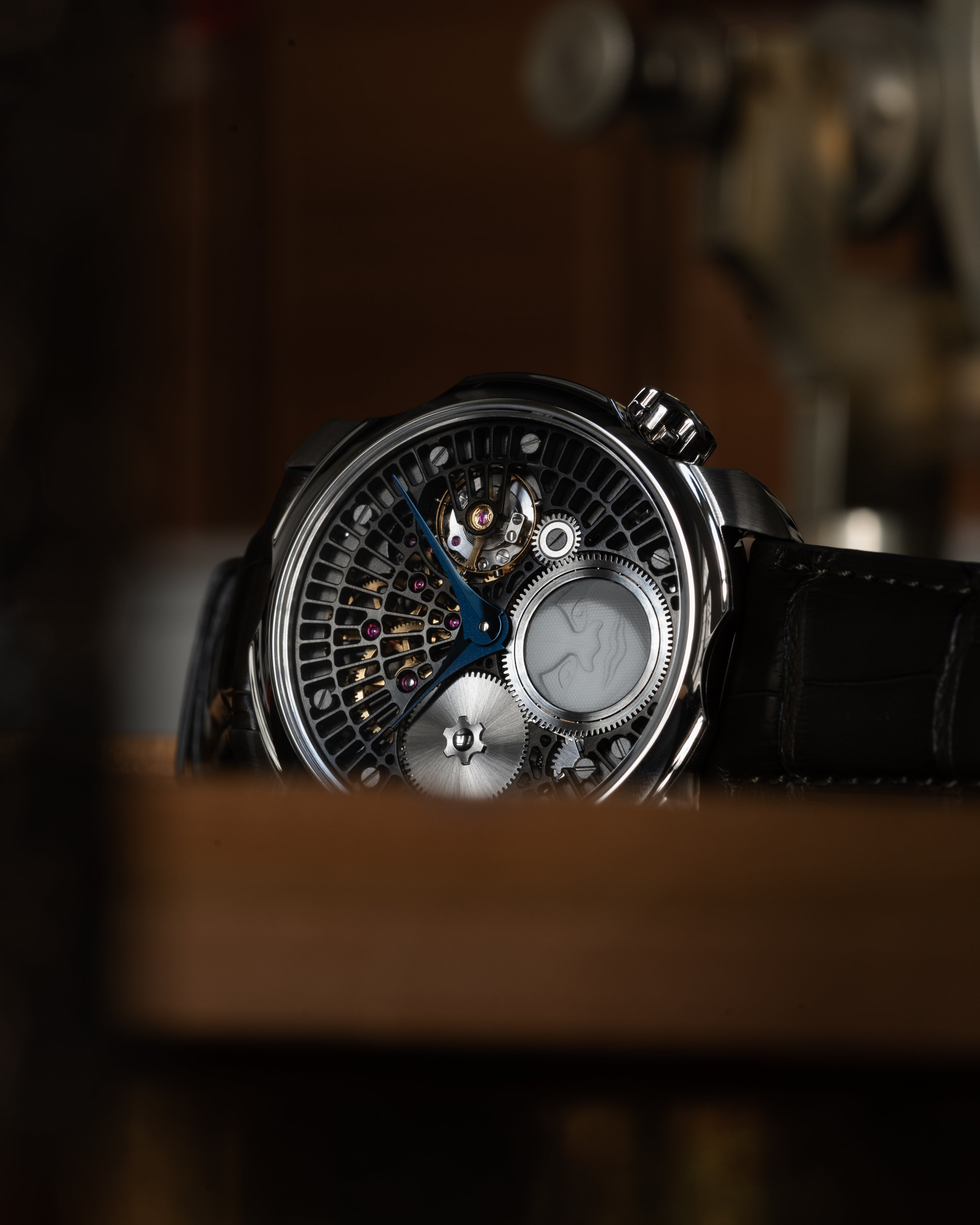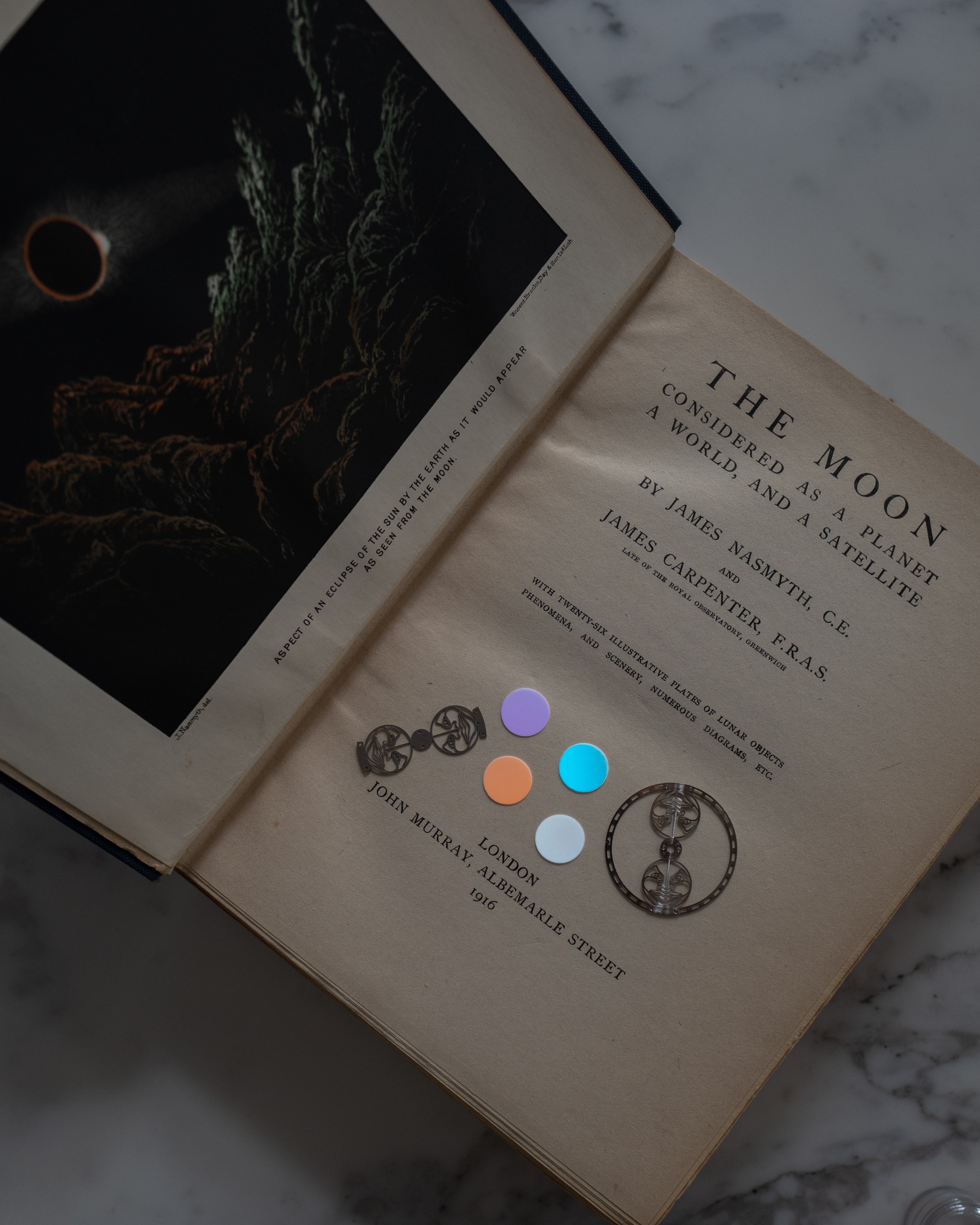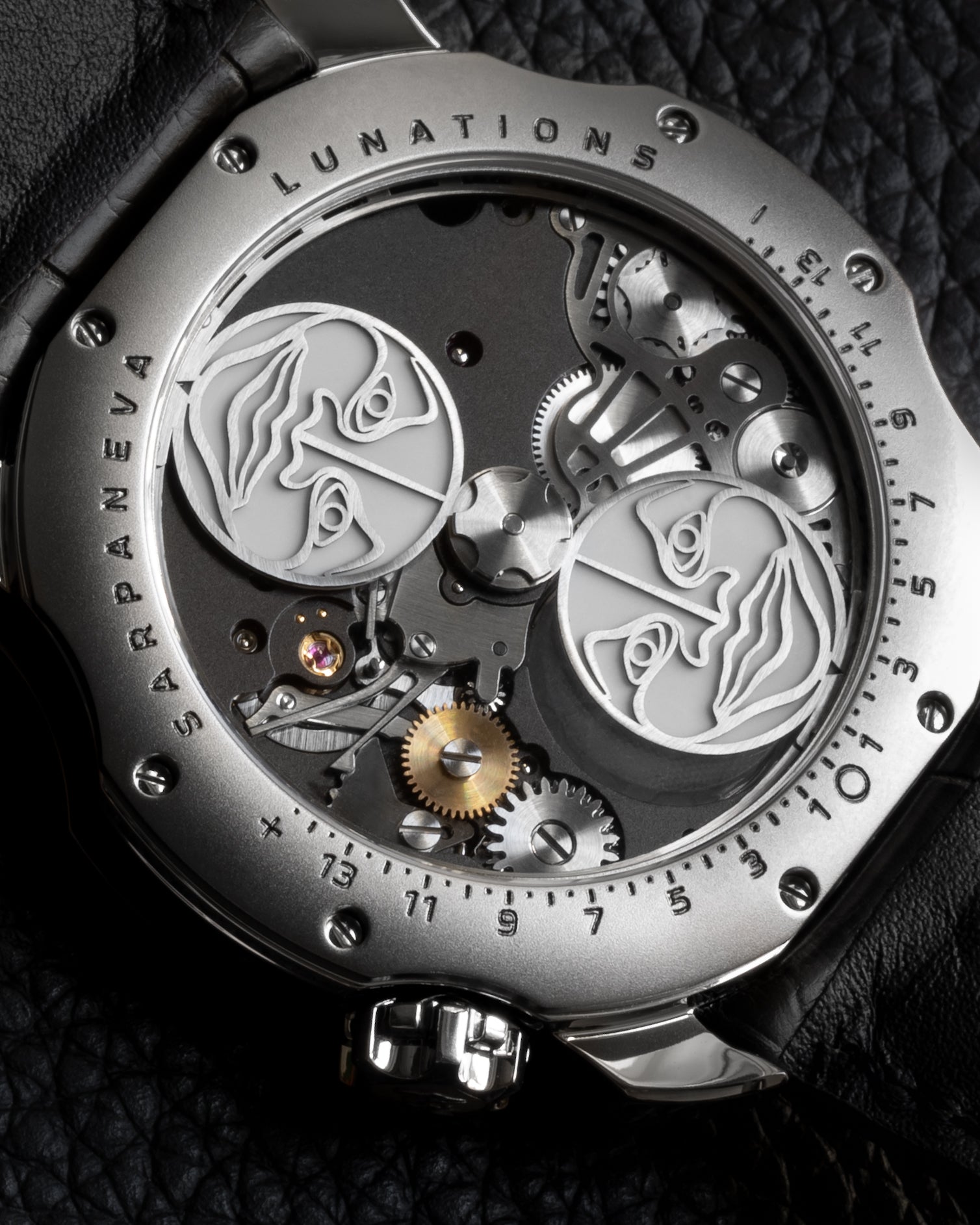 Day Night